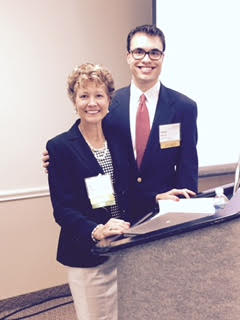 "Attaining Mutual Satisfaction in Health Care:
Strategies to Meet Needs of Patients with Autism Spectrum Disorder"
Characteristics of ASD often challenge health care delivery and can lead to suboptimal experiences for both patients and caregivers. This presentation expounds on breaking barriers and meeting the unique needs of both pediatric and adult patients on the spectrum. It is ideal for medical professionals, child life workers, service providers, and ancillary staff. 
David and Sandy collaborate to give attendees well-rounded perspectives: he is a teacher and a patient with ASD, and she is a registered nurse who knows firsthand the needs and constraints of health care professionals, as well as the needs of patients on the spectrum. 
Attendee objectives  
Participants will be able to identify at least five characteristics of ASD that challenge the delivery of health care/therapies for patients on the autism spectrum.

 
Participants will be able to state at least 5 strategies that will break down barriers and promote partnerships and satisfaction in therapeutic relationships with patients/families on the autism spectrum.