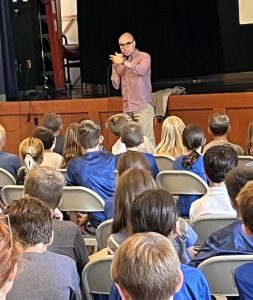 ---
I. Presentations for Students in Grades 4 through 12
P.E.T.R.O. Power
David's passion for enlightening young people stems from having experienced tough tween/teen years himself. He is motivated to spare students from the struggles he endured, and he believes that education and subsequent comprehension are the means to this end…David "gets" students and is able to uniquely reach them, making him an ideal speaker for teens.
Whether in the classroom, at a youth group gathering, or at a whole-school assembly, David is able to connect, impact and entertain. Using autism awareness as a springboard, Dave emphasizes acceptance of differences: in others AND self. He reveals the impact bullying had in his life, and he imparts lessons he learned that changed his course and lead to personal fulfillment: being true to self, accepting help, and handling adversity, to name a few.
See downloadable flier with details at bottom of this page
---
II. Presentations for Younger Students
1. See THEM
Are you affiliated with a school educating grades K through 8? 
Does David's "P.E.T.R.O. Power" presentation illuminate only half of your student body? 
Consider this add-on! 
Sandy will present to your younger students in K through 3 while David enlightens the older students!
See THEM presents the underlying themes of P.E.T.R.O. Power in a simplified, thirty-minute presentation. The talk teaches acceptance of self and others, living with kindness, and feeling worthy. 
Sandy includes a reading of the story from David's See ME: The Invisible Autistic Boy. This brings the concepts alive and promotes thought, as do the 2 take-away activity pages extracted from the book. 
Depending on the timing, David might join Sandy to conclude this talk.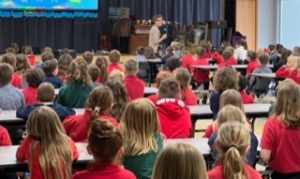 2. See ME
Is your school's entire population composed of students from K through grades 3, 4, or 5?  
You too can experience David's inspiration in a simplified version of P.E.T.R.O. Power!  
Through See Me, David briefly explains autism in a developmentally friendly way and uses that difference as a steppingstone to more simply present the themes of P.E.T.R.O. Power. He speaks of acceptance of self and others, the importance of kindness, the worth of every person, and the power each person possesses to make a difference in someone else's life. He shares how being bullied impacted him with the goal of bully prevention. He also includes lessons he learned that changed everything for him. 
David reads the story from his new children's book See ME: The Invisible Autistic Boy and provides activities adapted from it for further reinforcement and lasting impact. Thrill your students with a reading from the author himself!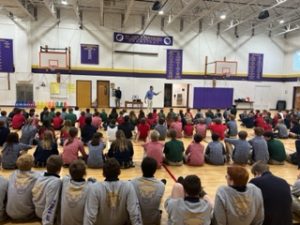 Thank you letters from middle-school students:
"Dear David Petrovic, thank-you for your inspirational message. It was a beautiful story, and it made me cry. I have personally not been bullied, but some of my friends have. I feel for you. I wish you didn't have to go through that, although at the same time I'm glad you did so that you could share your story with others and help them. You can inspire many people, even people who have not been effected by bullying. You have made me a better person who wants to help more people, more often. Thank you!"
***
"Your message touched so much in many ways, mostly me . . . You did so much to encourage people. I was bullied by people called "popular" and spreaded rumors all over . . . I was . . . depressed, self consious . . . When you came, it made me think a lot. thank you. My best friend have stopped talking for like a week and then . . . [a]fter the assembly, we ran up to each other and said we are sorry. You took this bullying thing to another level. A good level . . . it made me feel like I can help people. Now ever since I got bullied, I hated myself, and now I can pull through."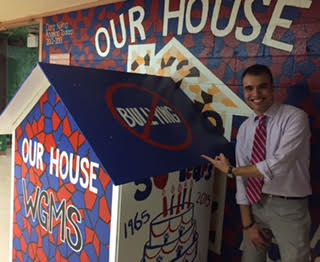 David at West Geauga Middle School
---